Avoid eating too much Jam.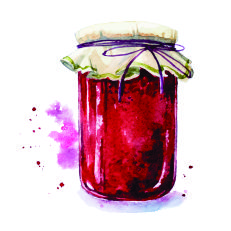 You see, sugar is the most practical method of food preservation – so much so that we tend to overindulge, and consume jams that contain more sugar than fruit! 
When we discover that excess regular white sugar is one of the great scourges of the modern diet, we might think it best to renounce jams completely.
And here's where our jams come to your rescue. We not only insist on using chemical free organic sugar for all our jams, we focus on having the maximum whole fresh fruit content in all our jams. For example, our strawberry Jam has an actual fresh fruit content of not less than "90" %! As for our Mango jam, it has a minimum of "70%" fruit content.
But all said and done, it's better to avoid eating too much jam and when you do eat, do it responsibly. Enjoy.<br />